12.10.2017
Be a ScamSmart investor
Penny Kunzig, MLRO
In 2015/16 there were 3,186 reports of investment fraud but the true figure is likely to be far higher as many victims are too embarrassed to report the crime.
The cost of fraud can be serious. The average loss of reported scams was £32,000 and this is just the financial cost – victims can suffer great emotional distress too.
The industry regulator, the Financial Conduct Authority (FCA), is so concerned about the level and sophistication of investment crime that it has launched the ScamSmart campaign to share important advice.
Like many other investment firms, James Hambro & Partners is determined to protect clients and supports the campaign.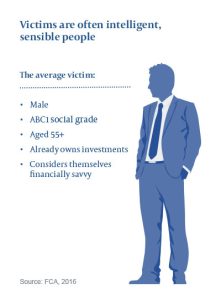 We want to help reduce the number of victims and encourage consumers to be more sceptical when they are approached about potential investment opportunities.
One of the reasons why victims are so embarrassed is that they believe this is something that happens only to gullible fools. It can happen to anybody.
Low interest rates mean many of us are becoming more susceptible to investment opportunities that appear to offer the chance for better relative returns than cash provides.
Investment scammers play on this. They can be very plausible, using flattery, emotional manipulation and time pressure to encourage you to relinquish your hard-earned money.
One of the most shocking aspects of this kind of crime is that after you have lost your money they may sell your details to a recovery firm or pose as a separate firm, offering to help you recover your losses for an upfront fee.
If you invest with an unauthorised firm, you will have no protection from the Financial Ombudsman Service or Financial Services Compensation Scheme if things go wrong.
Click here to hear victims share their stories with campaign ambassador Nick Hewer and see the FCA advice.
Be ScamSmart
Before investing, check whether the scheme you have been approached about is on the FCA Warning List and identified as a known scam. Since the ScamSmart campaign was launched there have been over 30,000 checks on the Warning List, with the most searched-for topics being shares, pension reviews, binary options, bonds, foreign exchange, pension loan liberation and land overseas.
The FCA advises investors to reject all unsolicited investment opportunities and to seek impartial advice whenever considering an investment.
The simplest advice is the most obvious: if it sounds too good to be true it probably is.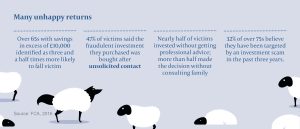 Penny Kunzig
Posted on 12 October 2017
Opinions and views expressed are personal and subject to change. No representation or warranty, express or implied, is made of given by or on behalf of the Firm or its partners or any other person as to the accuracy, completeness or fairness of the information or opinions contained in this document, and no responsibility or liability is accepted for any such information or opinions.
Image: Thinkstock