29.12.2017
A reason to be optimistic about 2018
Jamie Hambro, Chairman
By fudging the tricky questions such as the Irish border, our Brexit negotiators have managed to move the negotiations on to the difficult part of our departure. The next 12 months will see the key trade talks with our EU partners reach a critical stage. Even with goodwill on both sides, something that is not always evident, it will be impossible to get new agreements on the thousands of terms of trade within a year, but we should have made good progress.
Britain pays to the EU – and will now continue paying until 2020 – around £9bn a year after all rebates. That means Britain's departure will leave a big hole in the finances (although contributions to EU employee pensions will continue for many years beyond 2020). The Germans and French contribute the biggest shares of the budget at 19% and 16.6% respectively (Britain contributes 13.5%). A recent 204-page paper by the European Parliament tries to address the implications of the permanent shortfall of Britain's budget contribution.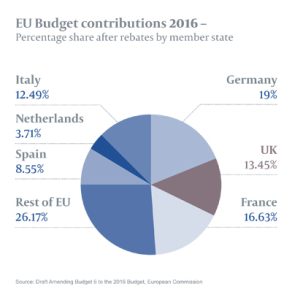 It concludes that the gap has to be filled either through higher national contributions or spending cuts – mainly to the budgets supporting the most socially deprived parts of Europe and to the Common Agricultural Policy (CAP), which helps subsidise farmers, who are politically important in both countries. These two programmes consume nearly a third each of the overall EU budget. It is hard to see the Germans and French foisting more taxes on their electorates, or running significant deficits for any length of time, so cuts it is likely to be.
A study by the European Commission's regional affairs department suggests that if the axe were to fall on the regional aid budgets, spending in all Western European countries might have to be almost completely stopped, potentially harming social cohesion in Europe. If it were to fall on the Common Agricultural Policy it could force significant farming reforms – particularly in France. A combination of both is likely.
Brexit negotiations – price of failure
The pain will only get worse if a satisfactory trade agreement is not reached. The UK imports £82bn more than it exports to Europe each year. So, collectively, the EU has more to lose from a failed deal than it has to gain. Little wonder my banking friends in Germany are so disappointed at our departure.
And the impact extends beyond just economics. Many sensible people in Europe are very concerned about the balance of power after the UK's departure. The UK is the fifth-largest economy in the world and the second-largest in the EU. Many in Europe see Britain as a stabilising force between France and Germany. They worry about what will happen if Britain no longer has a seat at the table.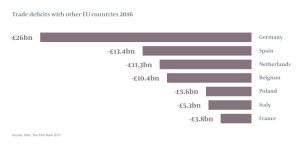 France and Germany have competing visions of the future governance of the EU. They and the European Commission have each put forward reform proposals recently and, predictably, failed to decide between any of them. The escalating row over Poland's new judicial reforms, which conflict with EU laws, highlights the strains all member states face over autonomy and integration.
Britain's departure has opened up some old simmering tensions. While these struggles continue the EU fails to address effectively the fundamental challenges that threaten the whole project – how it tackles the fiscal imbalances between member states, how it can continue to support weaker member states and how it regains the confidence of increasingly disillusioned voters in key countries.
So M Barnier returns from his Christmas break with a delicate hand to play. He needs to show progress as much as Mr Davies in the next round of Brexit negotiations without conceding too much on the terms on which we will trade with the EU members. A no-deal outcome would be possibly more disastrous for the EU than for GB.
While this may look quite depressing, whatever the outcome, our departure will force long overdue reforms on mainland Europe and here too, which in the long run will be to both sides' benefit. When we look back in 10 or 15 years' time, I believe we will see it as a positive turning point in our political and economic history. Short-term pain for long-term gain.
So I remain an optimist and feel I can wish you a Happy New Year!
Jamie Hambro
Posted 29th December 2017
You should not act on this content without taking professional advice. Opinions and views expressed are personal and subject to change. No representation or warranty, express or implied, is made of given by or on behalf of the Firm or its partners or any other person as to the accuracy, completeness or fairness of the information or opinions contained in this document, and no responsibility or liability is accepted for any such information or opinions