10.12.2020
ESG round-up – November
Sarah Goose, Portfolio Manager, Responsible Investment Lead
Change of climate leadership in the US
Joe Biden's election will be a turning point in US climate policy as he vows to "rally the rest of the world to meet the threat". His appointment of John Kerry as special presidential envoy for climate and Janet Yellen, co-founder of the Climate Leadership Council, as Treasury Secretary signal climate-focused intentions. Biden also appointed BlackRock's former head of sustainable investing Brian Deese as the new head of the National Economic Council, responsible for reviewing and monitoring economic policy.
Meanwhile the European Union published a proposal for a 'transatlantic green agenda' citing a once-in-a-generation opportunity created by the upcoming change of leadership in the US and the new geopolitical and economic reality.
DECARBONISATION
The UK's green industrial revolution
Boris Johnson has released a 10-point plan for a green industrial revolution that he expects will create and support up to 250,000 British jobs. Under the plan the government will invest £12 billion, believing it will lead to over three times as much investment by the private sector by 2030.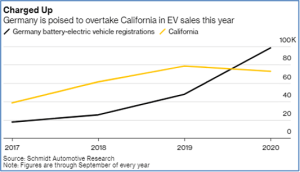 The plan, which the PM expects to help in 'making strides towards net zero [carbon dioxide emissions] by 2050', covers 10 areas including offshore wind, hydrogen, nuclear, carbon capture and electric vehicle (EVs).
Road transport currently accounts for 25% of emissions in the UK, and a significant change will be required if the UK is to achieve its targets. Lessons can be learned from countries like Norway and Germany. Electric vehicle (EV) sales in Germany surpassed California's this year for the first time, fuelled by a range of government incentives. Germans bought nearly 100,000 fully-electric cars in the first nine months of this year, roughly a third more than Californians. State subsidies play a huge part, alongside longer battery life and the greater travel distances it allows.
Estonian start-up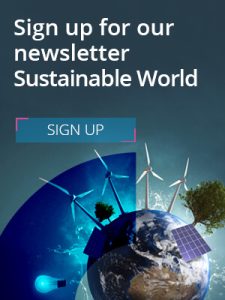 develops 15-second 'battery'
Skeleton Technologies is working on graphene-based ultracapacitor technology that could dramatically reduce EV charging times. Ultracapacitors are different to batteries, storing energy in an electrostatic field rather than as part of a chemical reaction. Currently it can take 30 minutes to charge an EV battery at even the fastest charging stations, but Skeleton Technologies' "SuperBattery" can be charged in just 15 seconds.
The technology does not provide a complete solution but used alongside a lithium-ion battery or hydrogen fuel cell it can reduce charging time, cost and weight. Skeleton Technologies has funding from the European Innovation Council among other investors and is being piloted in a number of applications.
CO2 at record high despite pandemic
New figures from the UN's World Meteorological Organization (WMO) show that concentrations of CO2 in the atmosphere have reached record levels despite global lockdowns. Whilst the restrictions on air travel and other industries during the crisis have prompted a fall in carbon emissions, the WMO described the impact as a "tiny blip" in the overall rise of greenhouse gases. According to the organisation, the global average of CO2 parts per million (ppm) in the atmosphere was 410.5 – an increase of 2.2ppm on 2018 levels. "We breached the global (annual) threshold of 400ppm in 2015 and, just four years later, we have crossed 410ppm," said WMO secretary-general Petteri Taalas. "Such a rate of increase has never been seen in the history of our records."
Frequent flyers and carbon emissions
Frequent flyers representing just 1% of the world's population caused half of commercial airlines' carbon emissions in 2018, according to a new study. Only 11% of the world's population took a flight in 2018 and just 2-4% flew abroad. The report claims that US air passengers have by far the biggest carbon footprint, with US aviation emissions being greater than those of the next 10 countries combined and that airlines benefitted from $100bn in subsidies by not paying for the climate damage they caused.
UK pushes forward with nuclear fusion
The UK government is seeking a site for what could be the world's first commercial nuclear fusion power station, with possible completion in 2040. The potential of the technology is extraordinary, but its utilisation for power generation has remained out of reach for decades. No fusion facility has so far generated more energy than it takes to run.
Achieving net zero in consumer food
Nestlé has published a strategic roadmap for achieving net zero carbon emissions by 2050. As part of the plan it has committed to spending €3bn in the next five years on measures to cut its emissions – the biggest financial commitment to achieving net zero by a consumer food group. The company stands alongside Unilever and Danone, which have committed to net zero by 2039 and 2050 respectively, but Nestle's roadmap is the clearest indication so far of how this could be achieved.
Sony warns of leaving Japan due to energy policies
The limited availability and high cost of renewable energy could cause Sony and other large Japanese corporations to move factories overseas. The appetite for renewable power has been accelerated by the desire of global technology companies to achieve net zero in their supply chains. Japan lags other countries in the provision of renewable energy and has yet to specify how it will achieve its headline target of carbon neutrality by 2050.
Driving down green hydrogen
Energy companies around the world are collaborating in an effort to push the cost of green hydrogen below $2 per kilogram, the price at which they believe it becomes attractive as an alternative to fossil fuels. Green hydrogen is obtained from water, using power generated from renewal sources. Hydrogen already has a number of industrial applications but is viewed as particularly attractive for transportation because the only emission from the vehicles it powers is water. The companies behind 'Green Hydrogen Catapult' have committed to sharing expertise in developing technology and manufacturing capabilities. They seek to ramp up production fifty-fold in six years to achieve the lower cost.
WASTE
E-waste rising on the agenda
Manufacturers and online retailers have been "dodging responsibility" for electronic waste, according to an enquiry by the UK's Environmental Audit Committee's (EAC). Electronics comprise the fastest growing category of waste materials, and the UK generates the second-highest amount per person annually (Norway is number one). The parliamentary committee was not satisfied with answers from companies like Amazon and Apple on the longevity of their products and their measures for repair and recycling. Roughly 40% of the UK's e-waste is sent abroad, often illegally. This will likely become a  focus for governments and investors.
In the EU, Brussels is set to introduce compulsory recycling targets for manufacturers of batteries and electric cars from 2030. The move is designed both to tackle e-waste and help meet the growing demand for essential raw materials.
ENVIRONMENT & BIODIVERSITY
World's first regulatory approval for cultured meat
Eat Just Inc has been given the go-ahead by regulators to sell its cultured chicken in Singapore, a world-first. Cultured meat is created by growing animal cells in a sterile environment. Eat Just has managed the breakthrough in a city-state of six million people with only around two square kilometres of farmland. Covid-19 and international trade disputes have brought food supply chains into tighter focus and Singapore is looking internally to overcome the challenges.
Meanwhile fast food chain McDonald's is set to introduce a "McPlant" range next year. The firm, which sells 75 burgers every second, will introduce a line of meat alternatives from 2021 in a tie-up with Beyond Meat, the Los Angeles manufacturer of plant-based substitutes.
Insect protein production set to fly
A French biotech company that produces protein from insects plans to build the world's biggest insect protein plant in the US. InnovaFeed has designed the facility to produce 60,000 tons of protein each year for animal feed. The firm has competition from Ynsect, another company planning to build the world's largest insect farm, this time in northern France.
Closer to home, Nestlé's Purina brand has developed insect and plant protein-based pet foods and launched them in Switzerland in November. (Editor's note: My own puppy is a huge fan of insect protein. Yora Petfoods is one company that has captured the hearts of pet owners, and benefits from two enormous tailwinds – pet premiumisation and the growing interest in sustainability.)
REGULATION, POLICY & INVESTMENT
Ex bank chief pushes for global carbon offset market
Mark Carney, former Governor of the Bank of England and now the UN's special envoy for climate finance, is raising awareness of the need for a global carbon offset market. Carbon offset markets allow individuals, companies and governments to purchase credits to mitigate the emissions they cause. As part of Carney's efforts to align capital markets with climate change goals, his Taskforce on Scaling Voluntary Carbon Markets (TSVCM) is working on a blueprint. "This needs to be a $50-100bn per annum market," he said. Critics of voluntary offsetting say it can help companies appear to be taking action while failing to implement measures to cut their own emissions.
EU releases strategy for offshore wind
The European Commission (EC) presented the EU's strategy on offshore renewable energy in November. It plans to increase Europe's offshore wind capacity from its current level of 12 gigawatts (GW) to at least 60GW by 2030 and to 300GW by 2050. The EC aims to complement this with 40GW of ocean energy and other emerging technologies such as floating wind and solar by 2050. According to the EC, in order to meet these objectives, investment of nearly €800 billion will be needed between now and 2050.
By Sarah Goose, posted on December 10th 2020


A word of warning
Opinions and views expressed are personal and subject to change. No representation or warranty, express or implied, is made or given by or on behalf of the Firm or its partners or any other person as to the accuracy, completeness or fairness of the information or opinions contained in this document, and no responsibility or liability is accepted for any such information or opinions (but so that nothing in this paragraph shall exclude liability for any representation or warranty made fraudulently).
The value of an investment and the income from it can go down as well as up and investors may not get back the amount invested. This may be partly the result of exchange rate fluctuations in investments which have an exposure to foreign currencies. You should be aware that past performance is not a reliable indicator of future results. Tax benefits may vary as a result of statutory changes and their value will depend on individual circumstances.