14.08.2019
JH&P summer reads 2019
There are plenty of keen readers at JH&P, and there are few better times to open a new book than by the pool or a sandy beach. So, we have asked some of the team to give us their 'summer reads' recommendations for what you should be packing in your suitcase.
Penny Kunzig, Partner
My summer reads: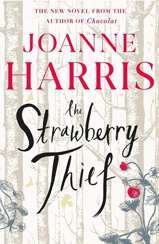 Joanne Harris, The Strawberry Thief This beautiful novel is the fourth of Joanne Harris's Chocolat series, although you don't need to have read any of the others to pick up the story. Harris transports you to the fictional French village of Lansquenet-sous-Tannes in South-Western France, where a quiet community has just been disturbed by two simultaneous yet seemingly unrelated events: the arrival of a mysterious tattooist, and a dead man's murder confession
With a rich setting and a colourful cast of distinct characters, it's perfect for losing yourself in. But equally, it's wonderfully written, and as we learn to write by reading, you can certainly learn a lot by paying attention to Harris's style.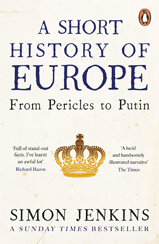 Simon Jenkins, A Short History of Europe: From Pericles to Putin I watched Simon Jenkins speak at the Hay Winter Festival, a literature festival, last year. It inspired me to pick up his recently released account of European history – from Julius Caesar to Angela Merkel.
It touches on everything from politics, economics, culture and art, taking great care to pay attention to the ways in which they intersect in European history.
With it being an overview of a period spanning a few thousand years, it's inevitably coloured somewhat by Jenkins' own perspectives and editorial decisions – but that makes it all the more worth reading.
Vivienne Selbie, Financial Planning Consultant
My summer reads: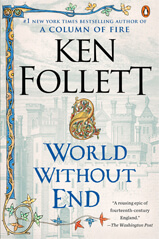 Ken Follett, World Without End (part of the Kingsbridge trilogy) These books are enormous, which makes them perfect for a holiday – particularly if you've got a long flight ahead. It's a trilogy based in the same fictional town set towards the end of the Middle Ages, and it brings together real history with fiction.
The first book is about the building of a cathedral, and as much as it's about its physical construction and its symbolism, it's also about the characters involved and their lives. The second book, World Without End, is set around 200 years later at the time of the Plague and the start of the Hundred Years War, using the descendants of the first book.
I love this kind of social history as I think the 'eye of time' gives tremendous perspective to our own lives. We tend to view many issues today as entirely new and unique to us but there is often plenty of precedent to find through time.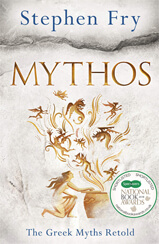 Mythos, Stephen Fry A few years ago I bought a book on the Ancient Greek myths, but I'd never got around to reading them.
Then, just before I went on holiday, my Kindle gave up the ghost. That meant I had to buy an actual physical book, and low and behold, Mythos had just been released. Deciding it was probably an intervention from Tyche, I picked it up.
Stephen Fry's modern retelling of the myths is written with his unmistakable wit and depth of knowledge. He packs out each story with fascinating nuggets of insight, so you learn with every page turn.
Mark Leach, Portfolio Manager
My summer reads: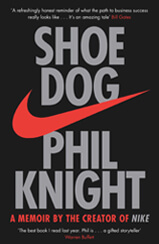 Shoe Dog, Phil Knight Shoe Dog is the memoir of Nike founder Phil Knight. It tells the story of how he turned a $50 loan from his father – used to import cheap trainers from Asia – into what is today the world's biggest shoe company.
Nike is clearly a fantastic business built around a strong brand that has taken years to develop and nurture. There are many books, either biographical or autobiographical that give great insight into how many of the great companies of today were established.
These books are great recreational reads, but they also help us understand better the DNA of companies we might like to own for our clients' portfolios.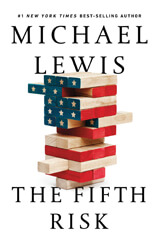 The Fifth Risk, Michael Lewis I've read practically every book Michael Lewis has written, so I knew I had to get this one. In it, Lewis looks at the Trump administration's "draining of the swamp" – his extensive restructuring of core government agencies like the Department of Energy, the Department of Agriculture and the Department of Commerce.
Lewis argues this isn't just the case of someone coming in and trimming the fat from government, it's someone coming in and pulling out the spine. He describes nuclear scientists with decades worth of irreplaceable experience being fired from positions of responsibility without reason, and an administration that entered government without any form of established transition plan.
I am only part of the way through but up to now, the message is quite terrifying. Maybe not Lewis's best work but an interesting and topical read all the same.
Rosie Bullard, Partner
My Summer reads:
Warren Buffett: The Biography by Roger Lowenstein Warren Buffett is obviously a fascinating figure for anyone interested in investment, and this book does an excellent job of summarising his life and work. It's also got his official seal of approval, so it doesn't just rely on headline-grabbing hearsay as some biographies do. His belief in his style of investing is unwavering, and his dedication to it is inspiring.
What's striking is not just his confidence in his own abilities – when he first set up his fund, he told investors they could expect an annual report and that was it – but also his capacity for hard work. He would spend every hour he could reading company reports, getting to know the figures inside out.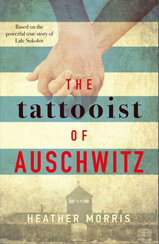 Tattooist of Auschwitz by Heather Morris A deeply-moving tale of hope in the most tragic of circumstances. It is based on the true story of Lale Sokolov, an Austro-Hungarian-born businessman and Holocaust survivor, who having been sent to Auschwitz was made to serve as the concentration camp's tattooist.
He manages to barter and trade items like chocolate and medicine within the camp's internal economy, set up by the prisoners, and is granted certain 'privileges' due to his role – he described himself as being a "step further away from death than the other prisoners."
The book was fascinating to read having met the grandfather of one of my colleagues who himself was an Auschwitz survivor. His own tattoo was still visible – and could well have been done by Sokolov.
Charles Calkin, Partner
My Summer reads: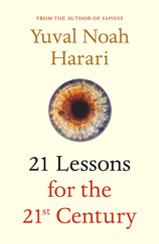 Yuval Noah Harari's 21 Lessons for the 21st Century He's controversial but he's a wonderful writer, so I think his books are always well worth a read, even if you don't agree with him.
This book expands his central argument that human societal progress is in large part down to our ability to create value from collective myths. Via 21 'lessons' – effectively essays, that are appropriate to our troubled times – he rages through contemporary issues like ecological disaster, nuclear war, fake news, terrorism and, of course, religion. He reads like a less cantankerous Richard Dawkins: critical of religion but clearly someone who recognises its value.
This one has been particularly controversial because Harari allowed the Russian version to be censored. He argues that it is better to have his book, and his message, available in Russian, rather than not at all. You can make your own mind up about that, but I would recommend picking up the UK version.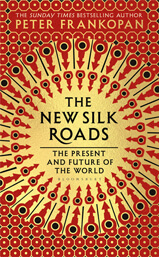 "The New Silk Roads – The Present and Future of the World" by Peter Frankopan Peter Frankopan is Professor of Global History at Oxford University, and his previous book – The Silk Roads – was an insightful reassessment of the importance of the region between the eastern Mediterranean and China. As Frankopan describes, it "has always been the engine room of global affairs."
In his new book he looks at the region today – arguing that as has been the case throughout human history, the transference of money, culture and power along the Silk Roads is proving decisive in global affairs. He turns his attention to China's Belt and Road initiative and discusses the implications of a global economy powered by Chinese money – from donkey shortages in African countries because of the demand for Chinese medicine, to the global expansion of Chinese naval power.
Opinions and views expressed are personal and subject to change. No representation or warranty, express or implied, is made of given by or on behalf of the Firm or its partners or any other person as to the accuracy, completeness or fairness of the information or opinions contained in this document, and no responsibility or liability is accepted for any such information or opinions.
The value of an investment and the income from it can go down as well as up and investors may not get back the amount invested. This may be partly the result of exchange rate fluctuations in investments which have an exposure to foreign currencies. Fluctuations in interest rates may affect the value of your investment. The levels of taxations and tax reliefs depend on individual circumstances and may change. You should be aware that past performance is no guarantee of future performance.