The strong investment performance of James Hambro & Partners has been underlined by the FT's annual wealth management survey.
The survey, now in its eighth year, highlights the performance over one, three and five years of average balanced and growth portfolios from 45 of the UK's leading wealth managers.
Of these, 34 have had their performance verified by Asset Risk Consultants (ARC), an independent specialist that ensures investors can compare manager performance reliably and fairly.
The non-ARC-verified portfolios have returned as much as 24% more on average than the ARC-verified portfolios, raising concerns about whether they are truly representative of average performance.
As in previous years, JH&P's performance compares favourably with that of ARC-verified peers.
JH&P CEO Andy Steel said: "This is a reputable, independent snapshot of the industry showing the long-term performance of its most respected firms. Our mandates are comfortably top-quartile over the important three-year and five year-periods.
"We outperform the ARC-verified survey respondent average over both strategies for every time period which shows real consistency. No single company beats us across all mandates and time periods. This performance puts us firmly in the upper echelons and is a tribute to the diligence and expertise of our investment managers."
When compared with the ARC-verified peers in last year's survey, JH&P was consistently in the top six across both portfolios and all time periods.
Steel said: "Though we shouldn't expect to be at the top of the table over every time period and every year, I am enormously proud of the consistent strong performance we have delivered for our private clients, advisers and charities."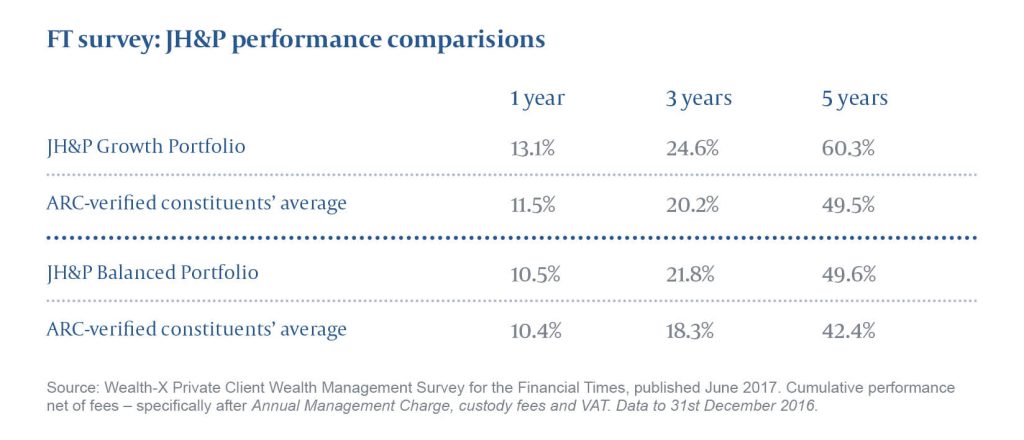 Published 23 June 2017
You should not act on this content without taking professional advice. Opinions and views expressed are personal and subject to change. No representation or warranty, express or implied, is made of given by or on behalf of the Firm or its partners or any other person as to the accuracy, completeness or fairness of the information or opinions contained in this document, and no responsibility or liability is accepted for any such information or opinions.
The value of an investment and the income from it can go down as well as up and investors may not get back the amount invested. This may be partly the result of exchange rate fluctuations in investments which have an exposure to foreign currencies. Fluctuations in interest rates may affect the value of your investment. The levels of taxations and tax reliefs depend on individual circumstances and may change. You should be aware that past performance is no guarantee of future performance.