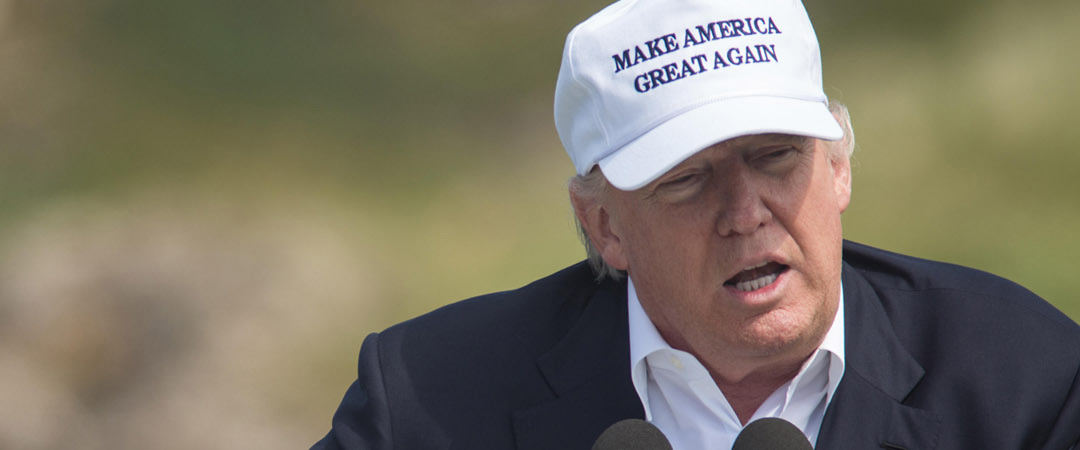 09.11.2017
Trump – don't underestimate his achievements
William Francklin, Partner, Portfolio Manager
Out West they describe people who talk a good talk but cannot deliver as "all hat and no cattle". It's too easy to apply the term to Donald Trump – so many of his pre-election boasts have fallen flat and his failures can appear to outweigh his successes. But is it entirely fair?
Failures
Most prominent among his failures has been his inability to come up with a credible alternative policy to Obamacare. His solution might have been better for the wealthy but would have left 40 million blue-collar Americans uninsured and was unsurprisingly rejected by Congress.
Then there is that border wall with Mexico. The Department of Homeland Security has priced it up at $21.5bn – significantly more than the $12bn Trump estimated on the stump. Technically, work on the border has actually started but no-one is agreeing to pay for it yet, so how far this will actually progress is a big question.
Tearing up the Paris Climate agreement and refusing to damn white supremacists have not been moments of glory either.
Trump's current tour of the Far East highlights the importance of foreign policy and North Korea in particular. The President has enormous power to influence foreign policy, international trade and the military and there no doubt that his policy agenda is completely different from the one that Hilary Clinton would have adopted. Whether it is the right one is open to be question.
If press reports are to be believed, Trump has a volatile relationship with his Secretary of State, Rex Tillerson, who was the Chief Exec of Exxon. I have never met Tillerson, but he is well regarded and has deep knowledge of countries like Russia and Iran.
Positives
So what about the positives? President Trump gauges his success by the performance of the stock market and on this criterion he is doing well.
The current third quarter results season has been very positive with many companies reporting record profits and a backlog of orders. In the case of Apple, we note the company has US$153bn in net cash – some of it in Jersey, according to the Paradise Papers leaks this week. It is more important than ever for the US economy and the President that he can come up with a plan for the corporate sector to repatriate trillions of dollars of cash, recycling them into the US economy.
One thing he has done that is unprecedented is to indirectly threaten many of America's most powerful CEOs – particularly in the defence sector – about outsourcing. He has put contracts on the line and I suspect most American companies would now be very careful about shutting a plant down in the US and relocating elsewhere. Here his bluster may have actually generated a positive outcome for blue-collar workers at a time of already record low unemployment.
President Trump has produced some pleasant surprises too. He may be removing Janet Yellen – an Obama appointee ­– but the new Chairman of the Federal Reserve Board is widely regarded as Mr Continuity. Jay Powell is seen as a safe pair of hands to cope with the tricky job of managing America's unwinding of quantitative easing.
Urgent challenges
Looking ahead, there is no doubt that Trump has been trying to push back on the huge proliferation of regulation that occurred under Obama, partly as a response to the financial crisis. This might have its downsides but could be good in some areas, like taxation.
It is critical for the administration that they make headway on tax reform before the year end. Here it is important to understand the limitations of presidential power. The President is very influential in directing the agenda of Congress – whether or not his policies pass as part of that agenda is another thing.
Donald Trump has much to achieve in the final part of 2017 as Congress will not do much in 2018 ahead of the elections in November next year. Republicans have control of the Senate by just 52-48. There are at least five potential renegade Senators, including McCain, Corker and Flake, who have been in Twitter wars with the President.
Conclusion
Winning power and executing it well are very different skills. If Trump is going to achieve progress in the areas that matter to him, he needs to be making friends and making them fast, concentrating on building bridges rather than walls. We do not know yet if he can he manage that.
That's a mighty fine hat, Mr. President. We're still waiting to hear the sound of mooing.
William Francklin
Posted 9 November 2017
You should not act on the content of this market commentary without taking professional advice. Opinions and views expressed are personal and subject to change. No representation or warranty, express or implied, is made of given by or on behalf of the Firm or its partners or any other person as to the accuracy, completeness or fairness of the information or opinions contained in this document, and no responsibility or liability is accepted for any such information or opinions.
The value of an investment and the income from it can go down as well as up and investors may not get back the amount invested. This may be partly the result of exchange rate fluctuations in investments which have an exposure to foreign currencies. Fluctuations in interest rates may affect the value of your investment. The levels of taxations and tax reliefs depend on individual circumstances and may change. You should be aware that past performance is no guarantee of future performance.
Image: Jeremy Sutton-Hibbert/Alamy