05.11.2020
JH&P supporting Future Frontiers
Members of the JH&P team have begun volunteering as coaches for the Future Frontiers programme, which offers young people from disadvantaged backgrounds careers guidance and access to professional role models.
Even today, parental income is still the strongest indicator of academic performance and future earnings. Children from low-income families are half as likely to go to university compared to their wealthier peers and 80% will be earning less than £21,000 aged 25.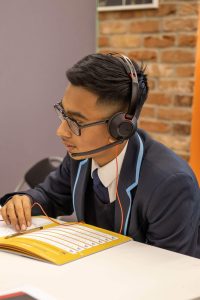 Evidence suggests that a young person who has four or more encounters with an employer is 86% less likely to be unemployed or not in training and could earn up to 18% more during their career.
Yet, only 40% of schools offer this kind of support and a huge proportion of young people leave education without having received career guidance.
This is where Future Frontiers comes in. The award-winning charity aims to provide young people from disadvantaged backgrounds with the skills and knowledge to fulfil their potential at school and beyond. To achieve this, the charity has developed a coaching programme and matched school pupils with professionals from businesses such as JH&P.
There are two elements to the programme. The first is coaching, comprising six hours of face-to-face sessions with a volunteer. The second is access to professional role models, which involves attendance at seminars and career talks delivered by senior business leaders and concludes with an invitation to the charity's career networking event in London.
While the effects of Covid-19 have necessitated changes to the programme, volunteers are doing their best to ensure students still receive high quality support. Assistant Portfolio Manager Oliver Robinson is one of our team participating in the programme this year. He has been conducting 90-minute virtual coaching sessions with his pupil, working through a structured programme to teach him about career options and to identify areas of interest.
Oliver says: "The young person I'm working with is currently making a number of important life choices on the next steps to take after school – a daunting period that many of us will remember vividly. I've been able to offer guidance and gently challenge some of his preconceptions about university and the working world.
"Taking part in the Future Frontiers programme has been a hugely rewarding experience. It's meant stepping out of my comfort zone but has definitely proven useful."
Investment Communications Assistant Sukhwinder Soomal says: "The Future Frontiers programme has been such an eye-opening experience. To know that there are so many options and opportunities for young people to strive towards – especially in the current climate – is so positive. Thanks to online platforms like Bramble, we can still take part in a fantastic coaching programme and still make a positive contribution to our local communities, despite all of the chaos that coronavirus has brought in 2020."
HR Manager Victoria Malyon says: "All JH&P staff are entitled to five days a year of paid leave to engage in charity work and we are encouraged to take it. Using that time to volunteer with organisations like Future Frontiers is allowing the team to make a difference to the lives of young people – those who can really benefit from guidance and support at such a critical point in their development."
In addition to working with Future Frontiers, JH&P supports Greenhouse Sports and The Prince's Trust, both of which provide opportunities for disadvantaged young people. Recently, over 40 members of the JH&P team participated in The Brilliant Breakfast in aid of The Prince's Trust's 'Women Supporting Women' initiative, which aims to help young women into education and training.
Visit our JH&P Returns page for further information.